I am done! I didn't finish faster than last year like I wanted to, but I didn't end up training and running the race on full either. Let me explain. Two weeks before the race I injured my left instep. I don't think it was training alone, but rather training followed by 3-inch heels. Yes, I know. I learned. No heels while training. So I lost a week of training. 🙁
Follow that up with the big kicker: I sprained my left ankle about 2 miles from the finish. So that changed my goal. I finished. That became my goal. Below is part of my cheering team at the finish line. Thank you to everyone that supported me over the past few months as I trained and the day of. It meant more to me than I can ever express.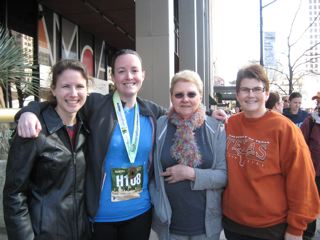 The night before the race I asked my Twitter friends for tunes to run to. So here is my list of songs. You can tell a lot about me by this list I guess, so enjoy.
Let's Go – Trick Daddy
Shut Up and Drive – Rihanna
Wild Ride – Kenny Chesney
Til the Dawn – Drew Sidora
Bite the Dust – The Pussycat Dolls
Stronger – Kanye West
Galmorous – Fergia
I Wanna Be Bad – Willa Ford
Milkshake – Kelis
Move Bitch – Ludacris
Never Again – Kelly Clarkson
Radar – Britney Spears
Pon de Replay – Rihanna
Bittersweet Symphony – The Verve
Shake Your Pom Pom – Missy Elliot
Don't Stop the Music – Rihanna
Send Me an Angel – Real Life
If You're Going Through Hell – Rodney Atkins
Extraordinary – Liz Phair
Tamborine Remix – Eve ft. Missy Elliot, Fabulous
Dirty Little Secret – Kelly Clarkson
London Bridge – Fergie
Get Back – Ludacris
Addictive -Rakim
Conga – Gloria Estefan
The Scratch – 7 Year Bitch
Stand Up – Ludacris
The Rockafeller Skank – Fatboy Slim
Single Ladies – Beyonce
New Agenda – Janet Jackson
Behind These Hazel Eyes – Kelly Clarkson
Beautiful Day – U2
Pump It – Black Eyed Peas
The Middle – Jimmy Eat World
Break Stuff – Limp Bizkit
We Run This – Missy Elliot
Let's Get Loud – Jennifer Lopez
Buck in Here – Akon Ft. Diddy & Ludacris
Lace and Leather – Britney Spears
Just Dance – Lady GaGa
No Reins – Rascal Flatts
You Can Do It – Ice Cube
We Made It – Busta Rhymes