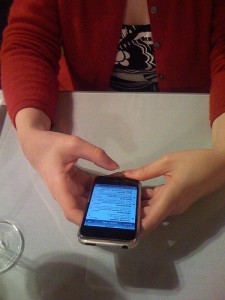 Picture this.
I'm in New York at SMX East 2008, my first speaking gig. I'm at dinner with some awesome people (including Brandy Eddings, Manda Otto, Scott Polk, Tony Adam, Carol Adam, Todd Friesen, Brent Payne, and Jonathan Dingman), and I look around when we are waiting for a table. Lo and behold, I am the only one without an iPhone. Seriously.
That was a year ago and the time has come to get one. I have been a loyal AT&T customer for almost 10 years. Yes. I've been through the AT&T –> Cingular –> AT&T (really SWBell) changes. I've gone through everything, and a year and a half ago, my car was stolen, phone in car. So I got a new one … extending my contract. The next year I went to SMX East. Been needing one ever since.
So August 20th is the first time I can update. I'm going into Apple THAT day.
So why do you care??
Hehe. I need your help. What apps do I need. Please comment and let me know. I have 3 days to prepare my list. Tell me what and why. 🙂 Thanks in advance!!