Just making it known, I am testing something but if you're up for an inspired post regardless, read on.
I have spent the last year working with an image powerhouse. The power of images is great, an untapped source of traffic for sure. I am a search marketer that is all about the conversion, but if all you want it traffic, images are just awesome and long tail. What's just so sharable? Images. Why do you think we take data and make it pretty (ala infographics)? People love images. The most recent, not sure if it's really the brain child of Paula Holmes Crimm, but maybe.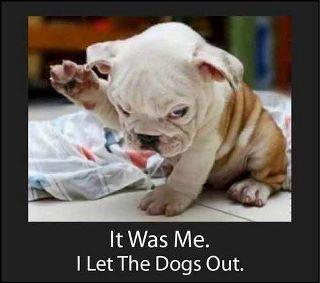 Really. How freaking cute. He/She let the dogs out. Took claim for the apparent mess it caused. You just want to kiss that puppy and the share it with all of your friends. I saw it this morning, reshared it, and 5 of my friends have done the same and not all from me.
Now the image search for this image. I figured "I let the dogs out" would do it.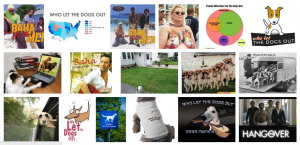 Alas no. I may be wrong in the search or it might just not have been shared outside of FB yet. Therefore, Google hasn't seen it. So I'm posting it. With good alt text and image name. Let's see what happens and if I can get some traffic from it. </SEO>
Take Away for Search Marketers and Businesses
This small picture is being shared. There is no commerce behind it, no linking scheme, just an image. So I want to impart something I have seen as I've developed client infographics and link bait, don't make it about you. Make it about users, your target market, the everyday user, the facebook user, whoever you want to see and share your content. Make it about them and they will share it. This does not have a 100% success rate (meaning making "viral linkbait" is still not possible to just create) but it does help get to the heart of the user and that might transfer down to the tip of their "share" finger.