I've been away from this blog for so long, it's time to get going again.
Being in digital marketing, I always wish for people to talk about their favorite things. Not because they are given it for promotion, but because they really like it. It's time for me to do that.
I've been working from home for the past year and have a really nice setup. When we moved to Austin, my husband and I invested in NextDesks.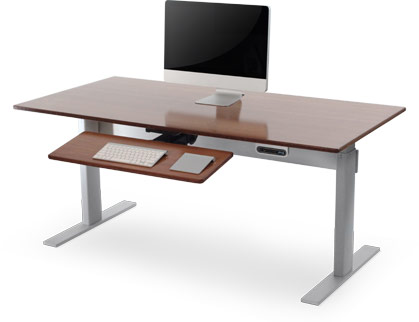 Now, they are almost as expensive as a really nice mattress, but you spend 8+ hours a day at a desk, why not make it great? There are two things I've learned to invest in, a bed and a work setup. That is most of your day right there, invest in both for your well being.
The other thing I got that I love was in fact given to me as a part of a contest from The Human Solution in Austin. To be fair, I didn't enter. My husband did when he bought a chair one day. I won a Steelcase Gesture Chair. This thing is slick and actually supports my back when I do decide to sit.
I was previously using an office chair that was also good, but my cat, Archie, has claimed for his own.
So there you go, a look into my home office.