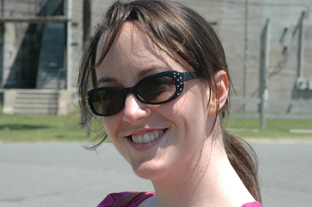 Well howdy! I'm Kate and I am a digital marketing consultant. I specialize in international search marketing, content creation, online marketing strategy, and search engine marketing (paid and organic).
My background is in marketing and advertising, mainly focusing on the internet side of things. I graduated from The University of Texas at Austin with a BBA in Marketing/Advertising from the Red McCombs School of Business. I had decided to focus early on the customer relationship aspect of marketing. I soon found that the world was changing rapidly (think Enron), and marketing was on the web.
I fell into working in search via PPC with an internship at a small marketing firm. Their client wanted to try this new PPC stuff, so they stuck the intern on it. Lucky for me, I have never looked back. I tested the waters of general marketing at a local Austin company doing everything from brand marketing to web for them for a few years. Somehow I ended up just working on their website most of the time.
I got my MBA from Texas State University while working on my own as an independent consultant in SEO and PPC.
I enjoy educating people on online marketing strategies and search engine marketing. I have spoken at a host of conferences including SMX, PubCon, Affiliate Summit, Seattle Interactive, and more. I am always open to new opportunities to teach others. We all learned this from someone else, so it is a joy to give back to the community through education. In fact, I was a past instructor the Internet Marketing Training program at The University of San Francisco. My joy is giving back to the community that taught me so much.